?"After finding the identity of one of them, Are Israeli soldiers implicated in the attacks of "price tag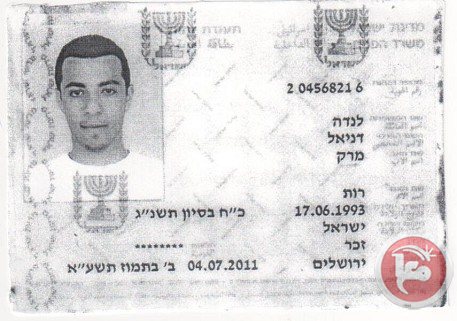 Maan News Agency – Nablus
The citizens of Qusra village (South of Nablus), have accused the Israeli soldiers, especially of the attacks and burning cars in the village. The villagers depended in that on finding an ID card of one of the Israeli soldiers near one of the burned cars.
Last Thursday morning, Qusra citizens have woken up when the settlers burned six cars in the village. Later, one of the citizens found an Israeli's ID over there, and then it appeared to be a soldier in the Israeli army.
After we found the soldier's ID, said Abdel-Atheem Wadi, head of Qusra Village Council, few meters away from the burned cars, and found out that the Israeli army is involved in assaulting our village. We, therefore, intend to court them and follow those who carried out the attacks on our properties.
He also pointed out that the ID which was issued in Jerusalem belongs to the Israeli soldier "Daniel Linda" who is 20 years old.
Israeli Threats
Al-Wadi added that the Israeli soldiers sent him a direct threatening in case they didn't get the ID back in some hours. They also warned him to be punished personally in addition to the punishment of the villagers in general, which made him –as he says- and after concealing many sides- to send the ID card to the Palestinian Liaison Office which in its turn, sent it to its Israeli counterpart.
Abdel-Atheem also said that he was informed that the Israelis told the Palestinian Liaison Office that the ID belongs to an Israeli soldier but claimed he wasn't on duty when the cars were burned.
The Soldier Lives in the Jordan Vally
Ghassan Daghlas, a PA official who monitors settlement activity in the northern West Bank, said that Israeli organizations specialized in human rights formally confirmed that the ID holder is an Israeli soldier living in a settlement in the Jordan Vally, and he is still doing the military service. He also confirmed that what has happened is seriously grave.
He added that the place where the ID was found is a place the soldiers never pass or be around.
Daghlas expressed his appreciation for the public receivership committees wherever they are, which were able to resist tens and hundreds of the extremist Israeli settlers attacks.
Moreover, he said that, last year, the citizens in Al-Libban village (south Nablus) were able to witness an Israeli soldier with his weapons and military uniform inside one of the settlers cars which carried men who cut down and burned olive trees, and also wrote racist slogans against Arabs.
Appealing to an international Inquiry Committee
Ghassan Daghlas asked for an international inquiry committee to judge the Israeli soldiers involvement in attacking and vandalizing Palestinian villages. He added "we own all the documents and witnesses who ensure the Israeli army involvement in the violation against citizens at least in Nablus, and in specific, in Qusra village.
Source: Maan Agency
Translated by : Qusra.net
About The Author
Related posts